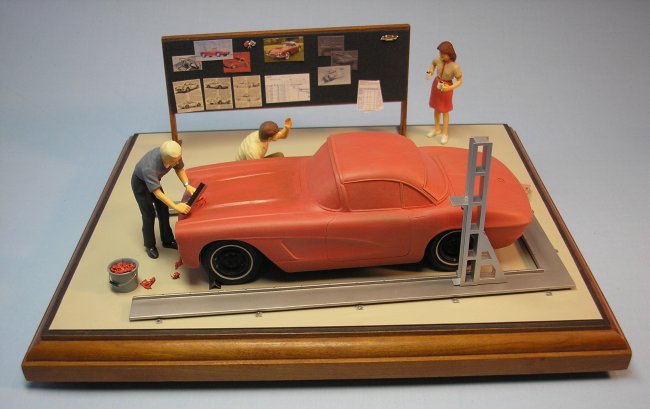 Recently, when I was between projects, I started looking through some boxes of spare parts when I came across a body for a 1962 Corvette. Not remembering where or when I had obtained this kit, I started looking for the other pieces. After awhile, it became apparent that the only other pieces that I could find were the hood, lower front valance, and the hard top.
As I was deciding what to do with the Vette body, I remembered a picture I saw in a book on Corvettes, showing the design process involving the clay model for the next production year of the Corvette. I still had the book in my library and with this information, a new project was born.
I started the build by sanding off all of the molded on chrome trim and emblems. I then glued on the front valance and blanked off the headlights and grille areas using sheet styrene. The rear taillights were given the same treatment. The hard top was glued to the body and then I used thin sheet styrene to create the front and rear windows. The side windows were done in the same manner. I then lightly sanded the entire body to give it a slightly rough surface to represent that the clay was still being worked on. I mixed up my own shade of red to represent the clay.
The Vette's frame was constructed from square styrene tubing and the tires/wheels are from the spare parts bin. Scratchbuilt items include: template, jig platform and tower, bulletin board, buckets, clay working tools and coffee cups.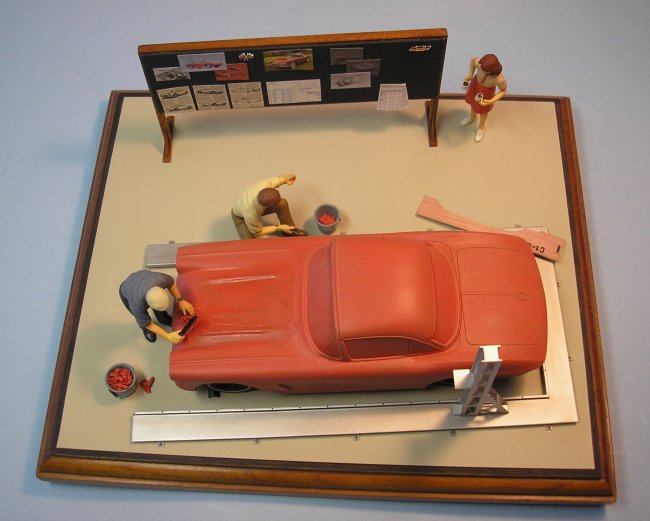 The fiqures I used are from the Tamiya Campus Friends set and the Fujimi Garage & Tools set.

This was an enjoyable build and I had fun turning a "what am I going to do with this?", into a diorama that gets alot of attention from everyone that sees it.

Enjoy the photos.
Terry Davis